Nigeria int'l Francisca Ordega got the praises of Sydney FC gaffer, Dan Barret on her debut for the Sky Blue as they secured a lone goal win over Brisbane Roar on Friday courtesy of a Princess Ibini's goal in the 10th minute..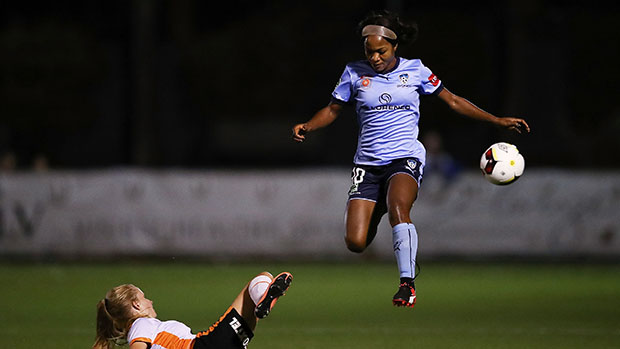 photo credit sydneyfc.com
Ordega who won the 2016 Africa Women Nations Cup trophy with the Super Falcons completed a move from American outfit, Washington Spirit to Australian club, Sydney FC. and she came off the bench on her debut on Friday. Her moves thrilled the fans who cheer her on every touch as she started with a win that has kept Sydney FC in the top four.
Thinking of making some money? Click here!!!
According to head coach,
Dan Barrett: "It was a big win and a very important game coming into the cluster of fixtures that are upon us. It keeps us in a good position, it's where we want to be which is at the top of the table. Playing Brisbane is always tough, it was a typical Sydney Brisbane game so I'm very happy to get the win. I was extremely pleased with Princess' performance, she's been awaiting her opportunity and today she played well to go with the goal. You can see the class in Francisca's first appearance, lots of touches and dangerous one on one, she needs a little bit more training to understand our structures but you can already see".
Sydney FC maintaia top four spot after the 1-0 win over Brisbane Roar as they prepare for the Sydney derby against Western Sydney Wanderers at the Popondetta Park next week.